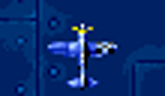 As the US manual for SW3 states, the F4-U Corsair is easy to control but unremarkable; it is fairly weak even after gaining several power-ups. Its bomb though is quite fantastic: Mecha-Keaton emerges from his plane to manually attack the enemy.

Mecha-Keaton's F4-U, like his F-117, is fairly weak attack-wise, even at its full power. As in Sonic Wings 3, it uses Keaton's Rage as its bomb.
Screenshot Gallery
Edit
Ad blocker interference detected!
Wikia is a free-to-use site that makes money from advertising. We have a modified experience for viewers using ad blockers

Wikia is not accessible if you've made further modifications. Remove the custom ad blocker rule(s) and the page will load as expected.