Mao Mao's plane, the M6A1 Seiran, again has the time-stopping E-Wave as its bomb even though it isn't Mao Mao's usual jet of choice. The Seiran is power and quick, and after one power-up, the Blue Gale laser takes effect. It automatically aims at the enemy, although its aim isn't especially accurate.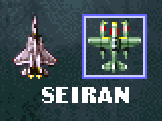 The Seiran is more powerful than Mao Mao's usual F-15, but it is much slower. Its bomb, however, is now arguably more useful: it surrounds the plane with a slowly narrowing force field for a few seconds which obliterates any enemies who come in contact with it.
Screenshot Gallery
Edit
Ad blocker interference detected!
Wikia is a free-to-use site that makes money from advertising. We have a modified experience for viewers using ad blockers

Wikia is not accessible if you've made further modifications. Remove the custom ad blocker rule(s) and the page will load as expected.